Kenco removes aerial and roadside obstacles to maintain project schedule
With the support of Kenco's utility truck escort services, a heavy-rigging and transport specialist completed two transports for the same project in just one week. Two low-pressure turbines with upper and lower casings, totaling six pieces, were transported nearly 215 miles from the Port of Wilmington in North Carolina to New Hill, North Carolina, about 25 miles southwest of Raleigh.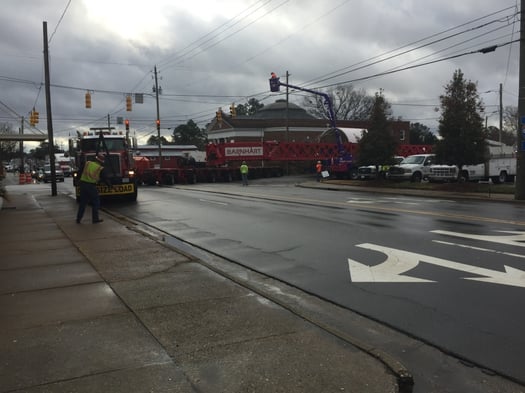 Freight Stats:
WEIGHT: 818,348 lbs. (loaded)
WIDTH: 25′
HEIGHT: 18′ 4″
LENGTH: 287′ 6″
CONFIGURATION: GS-800 transport system, which sits on an 8-line bolster 8-line bolster goldhofer; one pull truck and one push truck.
Kenco's Solution for Open Roads
Kenco's safety-conscious team executed the job efficiently, which helped the client maintain their specific project schedule. All aerial and street-level obstacles were cleared and the utility truck operators were constantly thinking ahead to the next obstacle to keep the heavy haul moving. Even difficult street signs didn't slow the team down.
Results
Both transports related to this project were completed safely and on-time. The project manager explained, "The Kenco guys were great. They provided an invaluable service to me as a heavy hauler, knowing that no matter what, I didn't have to worry about them."
He went on to say: "I may have some other utilities and other crews out there to support me, but those guys are an unknown. With Kenco, they touch everything and do everything, and help me out no matter what my project needs are. They are a great asset."
About Kenco:
Kenco provides experienced utility truck operators for oversized load transport projects and aerial assistance to all industries, including refining, petrochemical, oilfield, aerospace, transportation, wind energy, nuclear, construction, sub-sea and energy. As part of our bucket truck escort service, we offer a team of highly-trained, safety conscious and uniquely qualified personnel to escort your cargo to its destination. As a company, Kenco has over 20 years of experience in successfully moving cargo throughout the country safely and efficiently, so if you've got HIGH LOADS, count on Kenco for OPEN ROADS.
This case study contains proprietary information of Kenco Bucket Trucks. The information contained in this case study may not be used, reproduced or disclosed to any other parties for any purpose without the express written consent of Kenco.