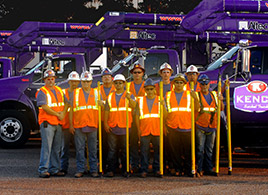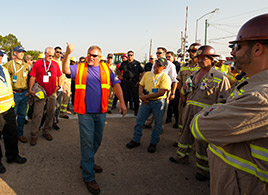 Get to Know the Team Behind the Purple Bucket Trucks.
Kenco Bucket Trucks™ ̶ known for our purple bucket truck nationwide transport support services for super loads ̶ was founded over two decades ago by Kenny and Myna Mungle to specifically serve the high load and overwidth cargo transport market. Kenco's sole mission is to deliver safe, efficient transport for oversize cargo by handling aerial and roadside obstructions, providing route survey, planning services and traffic control along the transport route, and working with local authorities and utility companies to ensure that the transport route causes minimal disruptions for the community and cargo owner. You know you can count on Kenco's purple bucket truck fleet and expert crews. Just remember: HIGH LOADS, OPEN ROADS™.
Respected
Kenco is well-respected in the transportation industry for its outstanding bucket truck escort service, the professionalism of its crews and its ability to perform effectively and efficiently under difficult conditions. Our crews are trained to the highest standards of safety and are certified bucket truck drivers and operators. They are also qualified to handle removal and repair of lights, communications and aerial cables and other road hazards that can obstruct the transport of your overheight and overwidth cargo.
Committed
Our commitment to your cargo begins with route surveys and planning by our specialists. We have over 30 years of experience escorting cargo throughout the country, and have the knowledge to help plan the most efficient and safest route for your cargo, ensuring your cargo will be transported with minimum risks or costly delays.
On the road, our crews are trained to anticipate and handle any problems, work with local utilities and to do what is needed to keep your cargo moving safely and snag free. Our modern bucket trucks will travel to the original starting point of the trip and remain with your cargo until it reaches its final destination – whether it be days or weeks.
Ready
Kenco's purple bucket trucks are ready to move when you need them to assist your super load, whether it's a local trip or across several states. When the purple trucks are with your cargo, you know it will be safe.