RESOURCES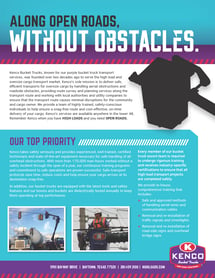 KENCO BUCKET TRUCKS INTRODUCTION
Kenco's sole mission is to deliver safe, efficient transports for oversize cargo by handling aerial and roadside obstructions, providing route survey and planning services along the transport route and working with local authorities and utility companies to ensure that the transport route causes minimal disruptions for the community and cargo owner.

Read on for our safety standards, certifications and training policies and best practices and an overview of our transport services.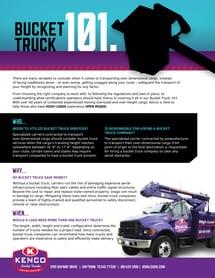 BUCKET TRUCK 101
There are many variables to consider when it comes to transporting overwidth loads with specialized bucket trucks. Instead of facing roadblocks alone – or even worse, getting snagged along your route – safeguard the transport of your freight by recognizing and planning for overhead obstacles.

From choosing the right company to work with, to following the regulations and laws in place, to understanding what certifications operators should hold, Kenco is covering it all in our Bucket Truck 101.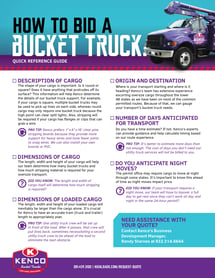 HOW TO BID A BUCKET TRUCK
Get the details you need to accurately and expertly bid a modern bucket truck for your next oversize transport. This in-depth checklist covers everything from cargo descriptions and dimensions to anticipated days for transport and origin and destination details.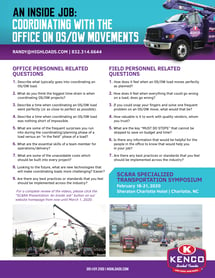 AN INSIDE JOB: COORDINATING WITH THE OFFICE ON OS/OW MOVEMENTS
Kenco's very own Randy Starnes presented this information at SC&RA 2019 and will be presenting again in 2020. Offering his perspective on how to coordinate the best OS/OW move team, Randy led attendees through this exercise, which is great for all field and office personnel to complete. Download the interactive guide to help your company identify and understand challenges and ways to overcome them, resulting in successful overheight or overwidth transports.
You can learn more or view the exercise videos here >> https://www.highloads.com/scra-presentation/
TEXAS ESCORT LAWS
Kenco's top priority is safety and we conduct our business with the welfare of persons and property in mind. Kenco provides experienced, trained and certified technicians that are fully capable and equipped to ensure that our customers' best interests are met.
Kenco's technicians are aware of all responsibilities regarding safety including the statutory safeguards by which our customers, our personnel and the motoring public are protected. We understand that compliance with statutory safeguards is not only a compulsory directive, but a vital and proven element of public safety. Read on for all the laws we abide by a super load bucket truck escort.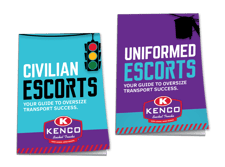 KNOW YOUR ROLL™
Based on our experience working with industry experts, Kenco Bucket Trucks compiled the following guide of best practices to be used as a tool to assist and continually educate efficient bucket truck escorting teams. These suggestions are offered to help make any oversize transport a success. Since there are countless situations that can arise on a transport, these guidelines are an effort to streamline common variables while being open to new and unique circumstances during transit. Knowing your role and these recommendations will help every super load transport be safe and successful.
Download Uniformed Escort Guide >>
Download Civilian Escort Guide >>