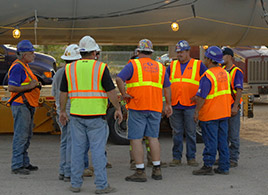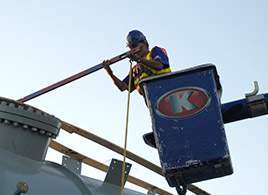 Modern Bucket Truck Escort Safety.
Kenco is committed to modern bucket truck escort safety. Our goal is to provide safe nationwide transport support of your cargo through our efficient bucket truck escorting service. Our excellent safety record is proof that our continuous training programs, predictive maintenance and commitment to safe operations are successful. With 170,000 hours worked without safety incidents, we are dedicated to the safety of our crews and that of the communities along the super load's route. Safe transport saves time, reduces cost and ensures the cargo arrives at its destination undamaged. If you're moving a HIGH LOAD, look no further than the safe Kenco crews to provide OPEN ROADS.
Our bucket truck escort teams are all required to undergo rigorous training to ensure that all cargo transports are completed safely.
We maintain a regular in-house, proprietary training for our crews that includes:
Handling aerial wires and communication cables
Removing and installing traffic signals and street lights
Removing and installing road-side and bridge signs
Note: Our crews are certified to remove and install traffic control devices along with street lights.
All of Kenco's crews are certified bucket truck operators, fully trained on the equipment they are assigned, including the bucket trucks, tools and safety apparatuses on the truck. In addition, our modern bucket trucks are equipped with the latest tools and safety features and trucks and tools are dielectrically tested with predictive maintenance performed annually to ensure that the electrical bucket truck systems are operating at top performance.