Kenco escorts two superloads over 2,500 miles.
In Q1 of 2018, a moving and rigging company completed the transportation of two superloads. They transported a steam turbine generator and steam turbine from Houston, Texas to the Chinook Power Station in Saskatchewan, Canada. Kenco Bucket Trucks was contracted to clear aerial and roadside obstacles in the path of the larger load for the 2,600-mile transport to the Canadian border.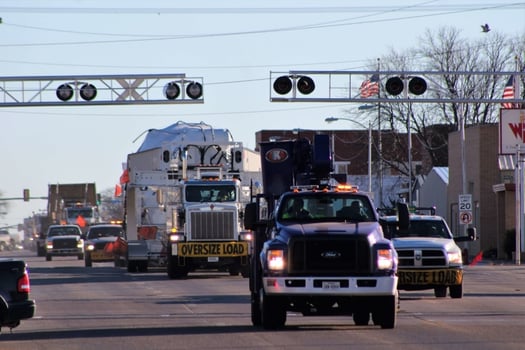 Freight Stats:
WEIGHT: 723,656 lbs. (loaded)
WIDTH: 18′
HEIGHT: 16.7′
LENGTH: 325′
CONFIGURATION: Pull tractor and 16 dolly bolstered trailer with a push tractor.
Kenco's Solution for Open Roads
Kenco Bucket Trucks cleared overhead obstructions and assisted with roadside signage on turns. The project director credited the Kenco team with going above and beyond tasks that were expected of them. Their knowledge of most routes from Texas to Canada proved to be essential for the duration of the project, as they efficiently anticipated and prepared for turns ahead.
Results
Both transports related to this project were completed safely and ahead of schedule, even with freezing temperatures in Houston and extreme weather conditions in the norther part of the U.S. The project director explained, "The project went off safely. We've used Kenco Bucket Trucks in the past, and we chose them for their professionalism. They're one of our preferred contractors for overhead utility work. We try to utilize them on any and all projects."
About Kenco:
Kenco provides experienced utility truck operators for oversized load transport projects and aerial assistance to all industries, including refining, petrochemical, oilfield, aerospace, transportation, wind energy, nuclear, construction, sub-sea and energy. As part of our bucket truck escort service, we offer a team of highly-trained, safety conscious and uniquely qualified personnel to escort your cargo to its destination. As a company, Kenco has over 20 years of experience in successfully moving cargo throughout the country safely and efficiently, so if you've got HIGH LOADS, count on Kenco for OPEN ROADS.
This case study contains proprietary information of Kenco Bucket Trucks. The information contained in this case study may not be used, reproduced or disclosed to any other parties for any purpose without the express written consent of Kenco.