Kenco Achieves the Impossible.
Kenco quickly and successfully assists multiple transports at the last minute with no delays.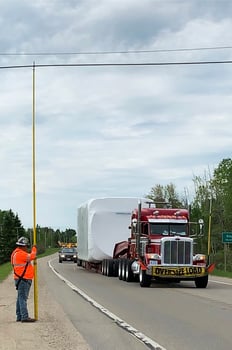 Kenco's Solution for Open Roads
Kenco was contracted for a six-week move from KK Integrated Logistics' Port of Menominee in Menominee, Michigan to a wind farm in Garden, Michigan. The bucket truck escort crew provided overhead utility support on a six-week transport of multiple loads of varying sizes carrying wind farm components over the 100-mile journey.
"We were engaged last minute to help with this project, and Kenco was able to quickly mobilize, work with local utility providers, gain the necessary permissions and prepare the route without causing any delays to the shipping schedule," explained Peter Lynch, President of Specialized Freight Solutions. "Prepping the route in advance reduced the travel time of each day and helped to avoid further delays on the project."
Results
The wind farm components were successfully delivered on time, despite the short notice of the project and the tight time constraints.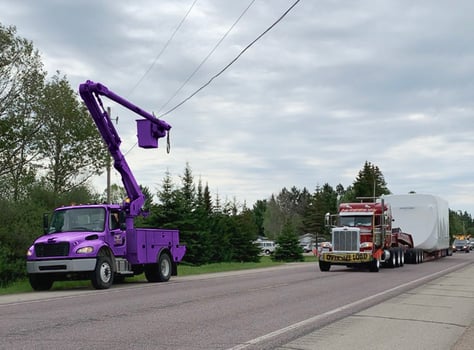 "Having Kenco on this project was key to make what seemed to be impossible an achieved reality," Peter said. "They expedited all lifts and other requirements efficiently and properly. We were involved to help our customer get this taken care of on a very short timeline, and Kenco was critical to the success of making that happen."
About Kenco:
Kenco provides experienced utility truck operators for oversized load transport projects and aerial assistance to all industries, including refining, petrochemical, oilfield, aerospace, transportation, wind energy, nuclear, construction, sub-sea and energy. As part of our bucket truck escort service, we offer a team of highly trained, safety conscious and uniquely qualified personnel to escort your cargo to its destination. As a company, Kenco has over 20 years of experience in successfully moving cargo throughout the country safely and efficiently, so if you've got HIGH LOADS, count on Kenco for OPEN ROADS.
This case study contains proprietary information of Kenco Bucket Trucks. The information contained in this case study may not be used, reproduced or disclosed to any other parties for any purpose without the express written consent of Kenco.