Kenco eliminates obstructions for oil and gas cargo
Kenco Bucket Trucks recently provided transportation support services for a heavy-rigging and transport specialist. Serving a client in the oil and gas industry, the project segment Kenco was a part of took about a week in half, traveling nearly 300 miles across two midwestern states.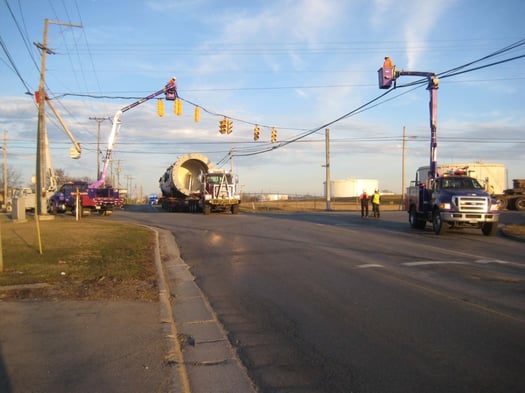 Freight Stats:
WEIGHT: 641,000 lbs. (loaded)
WIDTH: 18′ Wide in Oklahoma
16′ Wide in Midwest
HEIGHT: 19′ 3′
LENGTH: 265′
CONFIGURATION: Two trailers with bolsters.
Kenco's Solution for Open Roads
Kenco escorted the transport throughout the Midwest portion of the project, arriving a day early to completed prework on a portion of the route. During a day-long weather delay, the team continued route prework, unbolting signs and tying wires up to make the transport more efficient when it was finally underway.
Kenco also coordinated the 8-10 utility companies on site for the transport, including power, telecommunication and railroad. In addition to their typical work, Kenco's team also jumped in to help the client's crew move plywood or change a tire.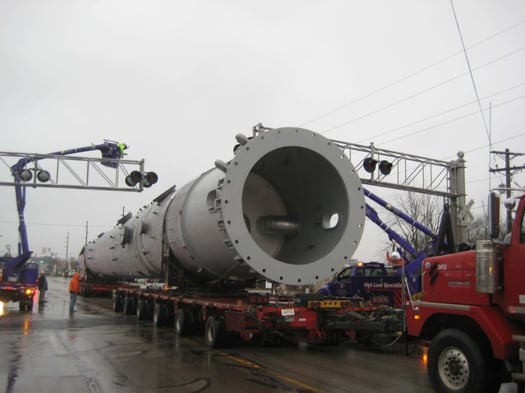 The project manager explained, "All in all, they're great guys who are part of our team. Kenco takes the extra step. They're always asking what we need to make our lives easier."
Results
The transport was completed on-time and safely, with zero incidents or injuries. The project manager said, "Kenco's equipment functioned appropriately and looked nice. Overall, they did a great job and I'm very pleased with the work they did. I would absolutely work with them again and I've even recommended them to coworkers."
About Kenco:
Kenco provides experienced utility truck operators for oversized load transport projects and aerial assistance to all industries, including refining, petrochemical, oilfield, aerospace, transportation, wind energy, nuclear, construction, sub-sea and energy. As part of our bucket truck escort service, we offer a team of highly-trained, safety conscious and uniquely qualified personnel to escort your cargo to its destination. As a company, Kenco has over 20 years of experience in successfully moving cargo throughout the country safely and efficiently, so if you've got HIGH LOADS, count on Kenco for OPEN ROADS.
This case study contains proprietary information of Kenco Bucket Trucks. The information contained in this case study may not be used, reproduced or disclosed to any other parties for any purpose without the express written consent of Kenco.