Kenco Braves Weather to Escort Heavy Load.
A heavy transport company based in Pennsylvania called on Kenco's purple bucket truck escorts to help move a large transformer over 70 miles to a substation in Millersburg, Iowa.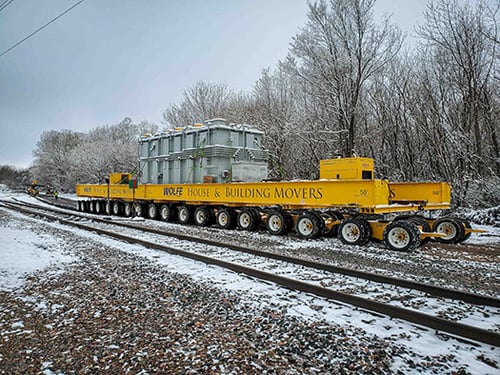 Freight Stats:
WEIGHT: 495,000 lbs. (unloaded) / 830,000 lbs. (loaded)
LENGTH: 100′
CONFIGURATION: 18 dollies set up in dual-lane configuration
Kenco's Solution for Open Roads
While the length of the entire project took about two weeks from start to finish, Kenco was contracted for the two-day move across 70 miles in wintery eastern Iowa. Kenco's bucket truck escorts assisted in lifting telephone, cable TV and non-electric utility lines, as well as other roadside and aerial obstacles.
"With a load this large, every 90-degree corner takes one to two hours to complete, and as we got closer to the site, the roads became narrower," explained the client. "Working with Kenco allowed us to use just one company instead of contacting each telephone or cable company that owned the lines over the route. With Kenco's help, there were fewer trucks and people on the road."
Results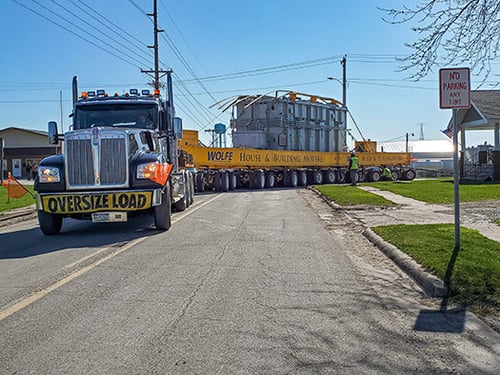 Even with a one-day delay in the middle of the route because of a storm that dumped four inches of snow on the region, the project was completed safely and ahead of schedule.
"It was a lot easier to complete the project on schedule when we hired Kenco," the client said. "They came highly recommended and are well-known in our business. They were great to work with."
About Kenco:
Kenco provides experienced utility truck operators for oversized load transport projects and aerial assistance to all industries, including refining, petrochemical, oilfield, aerospace, transportation, wind energy, nuclear, construction, sub-sea and energy. As part of our bucket truck escort service, we offer a team of highly trained, safety conscious and uniquely qualified personnel to escort your cargo to its destination. As a company, Kenco has over 20 years of experience in successfully moving cargo throughout the country safely and efficiently, so if you've got HIGH LOADS, count on Kenco for OPEN ROADS.
This case study contains proprietary information of Kenco Bucket Trucks. The information contained in this case study may not be used, reproduced or disclosed to any other parties for any purpose without the express written consent of Kenco.