Kenco Gets High Loads Out of Tight Spots.
Kenco's purple bucket trucks move a depropanizer tower across state lines.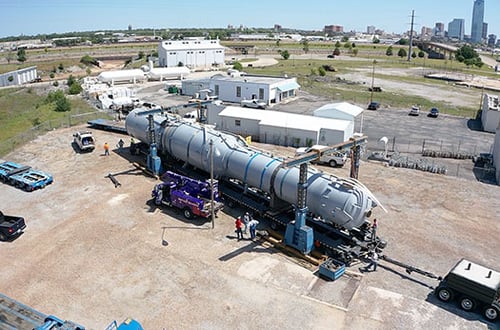 Freight Stats:
WEIGHT: 330,000 lbs. (unloaded) / 600,000 lbs. (loaded)
LENGTH: 225′
WIDTH: 18′
HEIGHT: 19′ 9"
CONFIGURATION: Push/pull truck
Kenco's Solution for Open Roads
Kenco was contracted for a nine-day move from Oklahoma City, Oklahoma to Port Arthur, Texas. The bucket truck escort crew cleared roadside obstacles and lifted utility lines, including traffic lights in tight intersections.
"We've completed jobs of about the same height, and other bucket truck companies have had difficulty lifting lines in small intersections to give us the clearance to proceed," the client remarked. "With Kenco, we never got stuck in an intersection. They were always communicating with us, so we felt safe and knew what was going on as they worked."
Results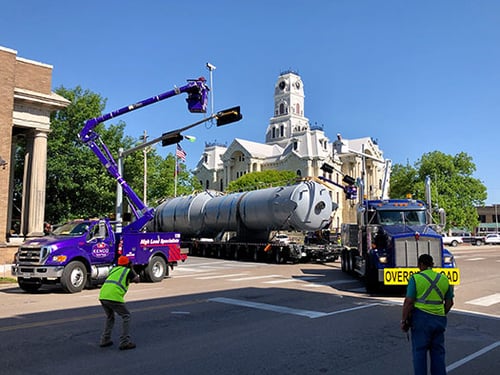 The depropanizer tower made it safely to its destination in a project that should have taken much longer, given the size of the cargo.
"When it comes to bucket trucks, Kenco is the best," explained the client. "They take bucket truck escorting very seriously, and they're there to get the job done. They operate at a fast pace and they're always ahead of the cargo, taking care of everything. Our client and everyone at the job site was very impressed by the timeliness of the transport."
About Kenco:
Kenco provides experienced utility truck operators for oversized load transport projects and aerial assistance to all industries, including refining, petrochemical, oilfield, aerospace, transportation, wind energy, nuclear, construction, sub-sea and energy. As part of our bucket truck escort service, we offer a team of highly trained, safety conscious and uniquely qualified personnel to escort your cargo to its destination. As a company, Kenco has over 20 years of experience in successfully moving cargo throughout the country safely and efficiently, so if you've got HIGH LOADS, count on Kenco for OPEN ROADS.
This case study contains proprietary information of Kenco Bucket Trucks. The information contained in this case study may not be used, reproduced or disclosed to any other parties for any purpose without the express written consent of Kenco.