KENCO'S UTILITY TRUCKS ESCORT TWO HUNDRED TON TURBINES
Earlier this year, Kenco Bucket Trucks teamed with a leader in heavy hauling, to safely transport two massive pieces of equipment. The turbines each weighed nearly two hundred tons and measured approximately 30 feet long, 16 feet wide and 17 feet high.
Originating in New York, Kenco's trucks successfully guided the transport and cleared obstacles along a route stretching more than 200 miles to its destination in Pennsylvania. During the winter move, the team encountered adverse weather conditions, including snow, which hampered visibility and halted progress during several stretches. Kenco and the client were also periodically required to transition from daytime moves along part of the route to night moves to reduce disruptions to traffic in the area. Given the higher levels of risk at night, the Kenco team relied on their equipment, experience and training throughout the move to ensure the cargo and crew arrived safely.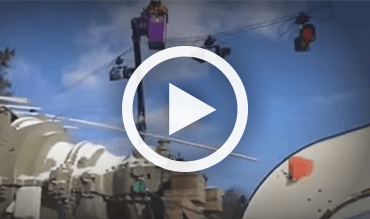 Freight Stats
(On trailer with 1 pull/2 push trucks)
WEIGHT: 913,227 lbs.
WIDTH: 19.5 ft.
HEIGHT: 18 ft.
LENGTH: 345 ft.
A Word from the Road
Moving that type of equipment along the back roads of the Poconos and Adirondacks was challenging, especially with the hazardous weather conditions. We were glad to have the crew from Kenco on our team.
This case study contains proprietary information of Kenco Bucket Trucks. The information contained in this case study may not be used, reproduced or disclosed to any other parties for any purpose without the express written consent of Kenco.