KENCO BUCKET TRUCKS ESCORTS CROSS-COUNTRY SUPERLOADS THROUGH COMPLICATED ROUTE
A heavy haul and superload transport provider recently completed a two-load over-dimensional transport with Kenco's help. The superloads began their journey in Oklahoma and made their way to Southern California, traveling a total of more than 2,500 miles. Aside from obvious size complications, the transport also required stints of both day and night movement (in compliance with each state's law), special coordination with Native American Reservation officials, and adjustment to extreme flood conditions.
Kenco's Solution for Open Roads:
Prior to the transport, the Kenco crew surveyed the route to ensure all aerial obstructions could be raised or were removed, and planned route could accommodate the cargo. Kenco worked with the client to determine the best route for efficient cargo transport. Kenco also worked with local authorities to minimize disruptions to the communities affected by these oversized transports and to coordinate traffic management plans or intersection detour plans as needed. Despite a longer move duration, Kenco Bucket Trucks escorted the load safely from its point of origin to its final destination. Due to portions of the trip requiring night transport, all trucks were equipped with amber strobe lights, spot or work lights, reflective tape and all employees wore company-issued reflective clothing.
Superload Stats:
VSS Chamber
WEIGHT: 548,000 lbs.
WIDTH: 21 ft. 9 in.
HEIGHT: 19 ft. 5 in.
LENGTH: 237 in.
Reactor Head
WEIGHT: 380,000 lbs.
WIDTH: 25 ft. 8 in.
HEIGHT: 20 ft.
LENGTH: 185 ft.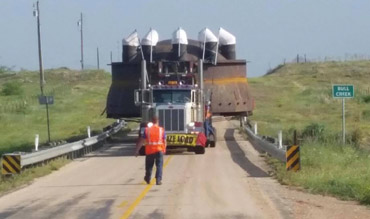 Results:
Though the transport experienced unavoidable delays due to flooding on part of the route, both loads arrived at their destination safely and promptly. Project manager commented saying, "Whatever we need on the road we can count on Kenco to go above and beyond. I trust them to come up with solutions to the obstacles we face in an expedited manner."
This case study contains proprietary information of Kenco Bucket Trucks. The information contained in this case study may not be used, reproduced or disclosed to any other parties for any purpose without the express written consent of Kenco.