KENCO PROVIDED BUCKET TRUCK TRANSPORT SUPPORT SERVICES FOR OVERSIZE LOAD
A leader in engineered heavy lifting and transport was contracted to haul a large transformer for CenterPoint Energy. Classified as a "superload", Kenco Bucket Trucks was retained to ensure safe clearance of all overhead lights and lines.
Beginning at the South Houston Service Center, the transformer was moved to the Zenith substation in Katy, Texas. A complex route of almost 200 total miles was specifically pre-determined to accommodate the size and weight of this transformer. Permit restrictions mandated that a beginning portion of the route only be used during nighttime hours, while the ending segment of the route had to be completed during daylight hours. Utility assistance and police escorts were required for the entire project.
The loaded height of this superload required advanced preparation for safely clearing overhead signal lights and lines, telephone, CATV. Kenco also coordinated all utility trucks on the project, directing them to the electrical distribution lines they needed to move. In addition, communications with TxDOT Signal Shops, TxDMV Motor Carrier Division and all affected TxDOT District Permit Coordinators needed to be organized in advance and in-transit.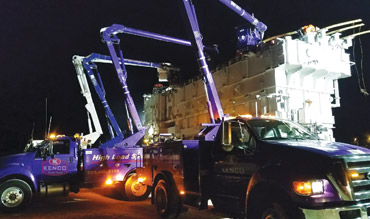 Freight Stats:
WEIGHT: 1,095,428 lbs. gvw (loaded)
WIDTH: 34 ft. 2 in.
HEIGHT: 22 ft. 8 in.
LENGTH: 199 ft. 7 in.
CONFIGURATION: Two prime-mover tractors in a push-pull configuration, with a 22 axle-line modular hydraulic platform trailer. Twelve extendable wing-dollies were added to safely distribute weight.
Kenco's Solution for Open Roads
Kenco provided the client with advanced planning, utility-provider contact and coordination, highly-trained and certified personnel and bucket trucks necessary for the safe execution of the job. In addition, a special boom truck was added during the move to provide the extra reach needed when positioned alongside the loaded trailer.
Results
This entire project was completed safely, on-time and on budget. The project manager explained, "The result was a 100% safe execution. Without Kenco, we wouldn't have gotten to our destination."
This case study contains proprietary information of Kenco Bucket Trucks. The information contained in this case study may not be used, reproduced or disclosed to any other parties for any purpose without the express written consent of Kenco.