Kenco Traverses the U.S. to Deliver Super Load.
The Kenco crew make a 1,600-mile trip across multiple state lines look easy.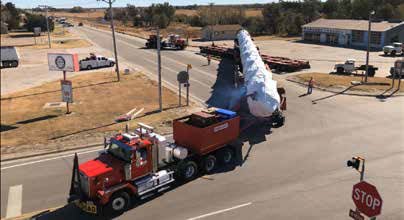 Freight Stats:
WEIGHT: 688,000 lbs. (loaded)
LENGTH: 280′
WIDTH: 18′
HEIGHT: 15′ 10"
CONFIGURATION: 16-axle trailer
Kenco's Solution for Open Roads
Kenco was contracted to help move a deisobutanizer from Oklahoma City, Oklahoma to a refinery in Superior, Wisconsin, a 17-day trip across 1,600 miles. The bucket truck crew expertly navigated roadways ahead of the load, lifting traffic lights and road signs to make way for the extra-long piece of equipment.
"The deisobutanizer was more than 200 feet long, so making turns was a challenge," the client explained. "Kenco was able to assist in moving hundreds of traffic signals and road signs at each corner along the route. They had a team of bucket trucks ahead of us, loosening road signs and light poles, so we never had to stop and wait on them."
Results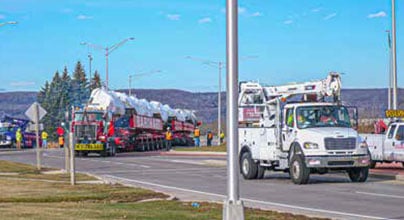 Although snowstorms delayed travel for a few days, Kenco's efficient and experienced crew made sure the cargo arrived at the refinery safely.
"Kenco was great to deal with, starting with our initial conference call before the project even began," said the client. "Once their crew arrived on the job, they were very helpful and efficient and completed the transport without any safety incidents, which is always the most important thing."
About Kenco:
Kenco provides experienced utility truck operators for oversized load transport projects and aerial assistance to all industries, including refining, petrochemical, oilfield, aerospace, transportation, wind energy, nuclear, construction, sub-sea and energy. As part of our bucket truck escort service, we offer a team of highly trained, safety conscious and uniquely qualified personnel to escort your cargo to its destination. As a company, Kenco has over 20 years of experience in successfully moving cargo throughout the country safely and efficiently, so if you've got HIGH LOADS, count on Kenco for OPEN ROADS.
This case study contains proprietary information of Kenco Bucket Trucks. The information contained in this case study may not be used, reproduced or disclosed to any other parties for any purpose without the express written consent of Kenco. .