Seamless bucket truck support for a multi-state transport.
Kenco's experience made all the difference coming onboard mid-project.
Freight Stats: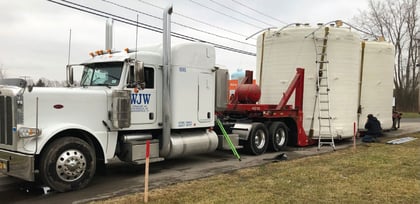 WEIGHT: 80,000 lbs. (loaded)
LENGTH: 79′ 11"
WIDTH: 14′ 8"
HEIGHT: 16'
CONFIGURATION: Two axle 50-foot-long double drop (custom built for tanks of this size).
Kenco's Solution for Open Roads
A client based out of New York needed utility truck support to move a large fiberglass tank from West Virginia to Indiana. Their current contractor was only local and couldn't commit to the multi-state project. That's when the client searched the internet and found Kenco.
"I was looking for a company that could come in and help as the project was already underway," the Manager of Safety explained. "After searching online and coming across Kenco, I went with them because of their national coverage. Plus, their customer service was super quick!"
Results
The tank arrived on time and safely with Kenco on the job. The client said, "It was night and day moving the cargo once Kenco was on board. They immediately came in and prepped the load and redid the conduit. It was totally seamless."
The client explained working with Kenco felt like a weight was lifted, and he recalls being impressed with how well obstacles were removed. He said, "We were very confident in Kenco and their guys even took the lead. We knew we had professionals with us and there weren't any issues."
About Kenco:
Kenco provides experienced utility truck operators for oversized load transport projects and aerial assistance to all industries, including refining, petrochemical, oilfield, aerospace, transportation, wind energy, nuclear, construction, sub-sea and energy. As part of our bucket truck escort service, we offer a team of highly trained, safety conscious and uniquely qualified personnel to escort your cargo to its destination. As a company, Kenco has over 20 years of experience in successfully moving cargo throughout the country safely and efficiently, so if you've got HIGH LOADS, count on Kenco for OPEN ROADS.
This case study contains proprietary information of Kenco Bucket Trucks. The information contained in this case study may not be used, reproduced or disclosed to any other parties for any purpose without the express written consent of Kenco.