Chances are, you've heard the saying, "Safety is our middle name." But instead of just saying that, Kenco Bucket Trucks proves our commitment to safety with our actions. Woven into the culture of our company, safe practices guide our decisions on a daily basis, from the initial planning stages to project completion.
In fact, our fleet has worked over 200,000 hours without a safety incident because we are dedicated to the health and wellness of our crews, our client's personnel, the motoring public and communities along the transport's route. Ask anyone on our team and they'll tell you our number one priority is safely executing our job, so our clients' projects and budgets are completed according to plan.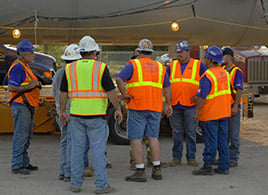 What is Kenco's Safety Culture?
Safe transports save time, reduce cost and ensures cargo arrives at its destination undamaged and all personnel are uninjured or unharmed. To guarantee this happens, our bucket truck escort teams undergo rigorous training. Did you know Kenco is one of the only bucket truck companies in the United States with a regular, in-house training program for our crews? Our proprietary program prepares our bucket truck operators to: 1) Handle aerial wires and communication cables; 2) Remove and reinstall traffic signals and streetlights; and 3) Remove and reinstall roadside and bridge signs.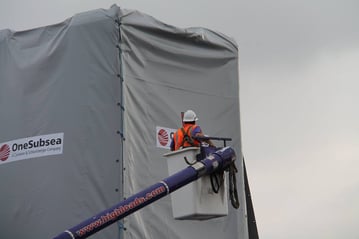 In addition to a library of custom bucket truck videos and safety training for on-site and off-site hands-on bucket truck training, our bucket truck crews have completed the following certification and training programs:
OSHA Fall Protection Certification
TRF450 Certification
Basic Mechanical Aptitude Testing
Hand-Tool Knowledge Course
IMSA Work Zone Safety Certification
IMSA Traffic Signal Technician I Certification
IMSA Traffic Signal Technician II Certification
OSHA 10 Hour Training course
OSHA 30 Hour Training course
HASC Training
Where Can You Learn More about Kenco's Safety Culture?
Our safety culture will be on display at Breakbulk 2019. Join us October 8-10 at booth M20 to learn more about our elite bucket truck fleet and standards that keeps our team and our clients' team safe.
________________________________________________________________________________________________

Don't Just Take Our Word for It.
Read what clients have to say about our safety culture:
"The result was a 100% safe execution. Without Kenco, we wouldn't have gotten to our destination."
— Aerospace Industry Client
"Kenco goes beyond just moving the load; they handle routes, assist in the logistics and conduct safety briefings prior to the actual move. I recommend Kenco Bucket Trucks to customers and any heavy haul company."
— Municipality Industry Client
"We would not have been able to complete this job without the help of Kenco Bucket Trucks. We felt more comfortable paying the extra cost to ensure the safety of the load and general public. Kenco is now on my speed dial."
— Chemical Industry Client
"Our company has been doing business with Kenco since 1996 and during this time we've encountered nothing but professionalism and efficiency. [Your team] performs with the highest safety standards and in the last several years, we have not encountered any incidents."
— Transportation Industry Client
"Without reservation, I can say that Kenco Bucket Trucks can be counted on to consistently provide on-time, professional service, qualified safety-minded personnel, and late-model, clean and dependable equipment. Kenco operators and technicians are the best in the business, and their safety record is second to none."
— Municipality Industry Client