Whether an oversize load is crossing the state or crossing the country, partnering with the right bucket truck escort service will make the job easier by creating a snag-free route. Overhead obstacles, bridges, and even trees can create snags and delays in delivery. An expert crew can find the safest, most efficient route for any load. Here's how the right team can clear the way for smoother hauls.
Expert Training
When a team is properly trained in guiding loads, they can quickly assess situations and safely remove any obstacles without wasting time. A well-trained team knows how to efficiently handle aerial wires and communication cables, and they won't need extra time to figure out how to safely remove or install road-side signs or streetlights. At Kenco, our proprietary training programs exceed the safety requirements of national organizations, including the Occupational Safety and Health Administration (OSHA), the International Municipal Signal Association (IMSA), the Health and Safety Council (HASC) and more.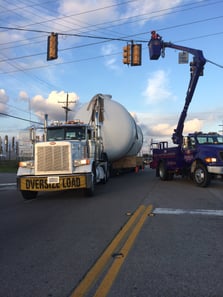 Lower 48 State Authority®
It's important to know which routes are permitted for high and oversized loads in the lower 48. It's equally important to work with a bucket truck escort service that knows the permitted routes and understands the type of obstacles they'll be clearing along the way. For more than two decades, we've used our extensive knowledge of available routes in the lower 48 states to safely guide loads and to perform utility coordination, pre-route prep and route consulting. When it comes to snag-free routes, we've been planning and traveling routes long enough to find the most efficient path for any type of cargo.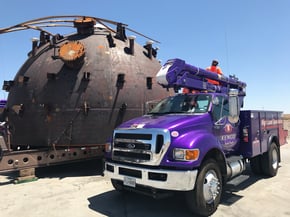 Safety Consciousness
Safety is our number one priority, as it should be for any bucket truck escort service. Travel snags aren't just caused by obstacles or choosing the wrong route. They're also caused by safety incidents that can halt or delay travel. Our crews maintain an excellent safety record, and our commitment to continuous training and predictive maintenance keeps the team safe on the road. By ensuring safe transport procedures are followed, crews stay injury-free, time is saved, and the cargo arrives on time and undamaged.
Snags can be difficult to prevent when hauling high or oversized cargo. All our crews are certified bucket truck operators and fully trained to safely clear the route, and to choose the correct route, to ensure the most snag-free trip possible. When you need bucket truck escort services, give us a call. We can help get your cargo safely to its destination.