Whitfield brings decades of industry experience to nation's top transport support services company.

HOUSTON — August 18, 2021 — Kenco Bucket Trucks has hired industry veteran Jim Whitfield to join their sales team. The company has nearly 25 years of experience in the national transport support industry and is known for its signature fleet of Purple Bucket Trucks™ that helps eliminate roadside and aerial obstacles. Whitfield will help continue building relationships with clients and ensuring jobs well done.
"My role will be to help maintain Kenco's reputation as number one in the business. Kenco is the gold standard, and being in sales, I tend to be the same way," Whitfield said.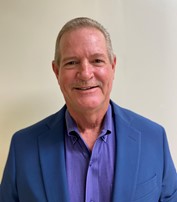 Whitfield began his career in roofing materials sales, but quickly found a home in the industrial market with rigging and crane sales. Whitfield has spent 20 years in the industrial market and understands each stage of cargo transportation. His role with Kenco is the seamless next phase of his two decades of professional experience.
"We're very excited to have Jim on the team," said Kenco President and Owner, Kenny Mungle. "He's highly respected in the industry, and we're looking forward to seeing his leadership and experience at work at Kenco."

Whitfield, who is an avid sportsman and licensed pilot, spent the last 17 years developing customer relationships with his previous company and plans for a long tenure with Kenco Bucket Trucks. The Houston native said he's looking forward to contributing to a local, family-owned company.
"The way Kenny and Myna represent themselves in the industry and the way they care for their employees — you just don't find companies out there that have that much passion — and not only for their employees but for their customers, too," Whitfield said. "It's easy to stay positive all the time because the owners are positive. It makes a world of difference, and you wake up every day ready to go to work."

Kenco has a longstanding reputation for excellence in the industry and has maintained a strong trust and bond with customers and partners. Whitfield said he'll be continuing that tradition of service.

"It's wonderful to be here at team Kenco. I feel like I didn't join a company, I joined a family. Everybody's family here," Whitfield said.