With the ambitious goal of using wind turbines to produce 20% of United States energy by 2030, the wind industry is experiencing a building boom and having a knowledgeable bucket truck escort company is more important than ever. Wind energy is viable in all 48 states in the contiguous U.S., so it's becoming more common to see wind farm components being transported on highways and interstates across the country. Given the oversize load and massive scale of turbine blades, towers and nacelles, can bucket truck escorts keep this cargo safe? Here are three reasons to rely on bucket trucks to get cargo safely from origin to destination.
Preparation
Transporting wind farm components can take up to a year of planning before you even get on the road. However, the bucket truck escort company should be working with you well in advance of the transport date. Blade and tower cargo lengths can run 50 meters or more (and new super-sized blades will be 200 meters long). Nacelles, while shorter, weigh around 56 tons. To accommodate these oversize loads, the entire route needs to be identified to make note of any major obstructions that would prevent the cargo from passing. This includes tree removals, roads that may not support the weight of the cargo and bridges with insufficient clearance. Bucket truck escort companies can help prepare the route beforehand to remove major obstacles to cut down on stops and they'll guide the cargo for a snag-free transit.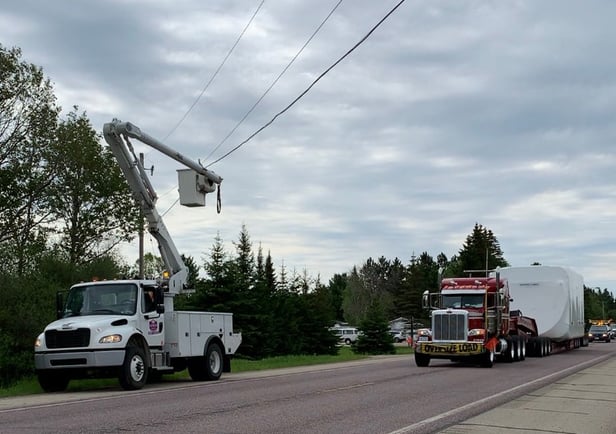 Support
As a normal part of transport, there are going to be everyday obstacles such as traffic lights that need to be cleared. Aerial and roadside obstacles are the main causes of cargo damage while transporting wind turbine parts, so your bucket truck escort should be equipped to provide obstacle removal support on the road. This includes quickly and efficiently lifting or relocating traffic signals, communication or fiber-optic and any other signs or obstructions you encounter. For example, Kenco Purple Bucket Trucks™ are custom built to save time and they're kept up to date with the latest tools and safety features needed to handle the latest traffic and electrical installations.

Staff
When you're transporting oversize loads of this size, having a reliable and well-trained staff is essential. Hire a bucket truck escort company that has experience managing wind farm component cargo. It isn't enough to know how to clear a tree or signal light. Turbine components are a special type of equipment. Their size and weight require expertise in both the preplanning phase and on the road. The risk of damage from hitting trees, traffic signals, aerials and other obstacles is higher than with smaller oversized loads, so make sure your bucket truck escort company has an experienced staff.
When you need an escort team with years of experience and the technical know-how to transport wind farm components, get in touch. We've helped manufacturers across the country safely manage their deliveries from origin to destination.