Chances are, you've heard the saying, "Safety is our middle name." But instead of just saying that, Kenco Bucket Trucks proves our commitment to safety with our actions. Woven into the culture of our company, safe practices guide our decisions on a daily basis, from the initial planning stages to project completion.
Safety on the job is important in any industry, especially transportation. Because a safe transport is a successful transport, Kenco's elite bucket truck escort team follows our S.A.F.E. motto.
S – Survey
A – Acknowledge
F – Finalize
E – Execute
Whether we're completing a routing task or come across a situation, the Kenco crew will first SURVEY the landscape. We physically look around the area we are responsible for in addition to what is ahead and behind. This enables our team to ACKNOWLEDGE any hazards in our path. By identifying any challenges or issues, our team can FINALIZE a safe plan of action that helps us avoid dangerous pitfalls or helps us navigate through obstacles. With a sound plan in place, our team can then EXECUTE the task or project. This safety-first motto serves as a constant reminder to our crew.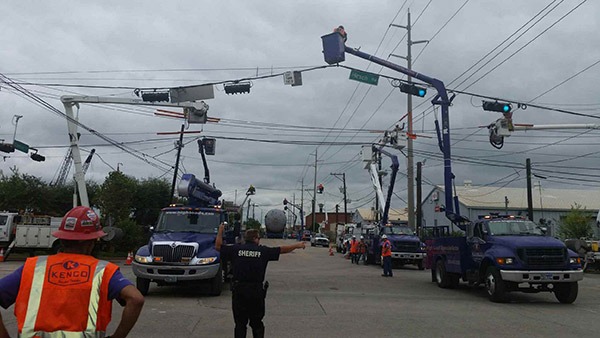 Why Should the Safety of a Bucket Truck Fleet be a Top Decision Factor?
The preparedness of a fleet and crew should be of the utmost importance to companies in the transportation industry who are seeking bucket truck escort services. There are enough moving parts when it comes to transporting oversize, overdimensional cargo that an unreliable bucket truck team is simply unacceptable.
If a bucket truck fleet is not maintained and the crew is not trained to the highest of safety standards, then the success of a transport project will be greatly affected. For example, if a utility truck maintenance is not performed and the bucket truck happens to break down, it will cause an already cumbersome oversize load to have to stop at an unscheduled location while repairs are made.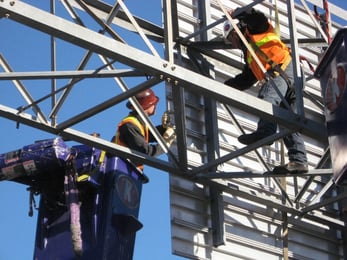 Similarly, if a bucket truck goes down and the load happens to be in between two obstacles, then the load is stuck waiting there. The same mindset applies to an unsafe crew. Should something happen to a bucket truck operator because he was not following safety policies and procedures, the transport would be at a standstill until a replacement crew member could step in.
These are all very unsafe situations — and all avoidable by choosing to work with a bucket truck outfit that employs certified bucket truck operators and has an exceptionally maintained and equipped bucket truck fleet.
To learn more about Kenco's S.A.F.E. motto and training program, please visit our dedicated safety page. You can also meet us at Breakbulk Americas 2019 in October. Stop by booth M20 and let us know why safety is your #1 priority.