Kenco High Load Escorts Completed Two-Night Road Trip of NASA's Shuttle Carrier Aircraft
NASA's original Shuttle Carrier Aircraft (SCA) — a modified Boeing 747 jumbo jetliner that for three decades flew the space agency's orbiters coast to coast — completed a two-night road trip to Space Center Houston.
Kenco Bucket Trucks was honored to contribute to this historic move, beginning at Ellington Field. Kenco handled all the utility line and traffic light lifting. For anything that had to be moved or raised, Kenco was there to do it. Over the course of a few nights, the Boeing slowly but safely made its way to its final home at Space Center Houston.
Freight Stats
WEIGHT: 135,000 lbs.
WIDTH: 29 ft.
HEIGHT: 34 ft.
LENGTH: 189 ft.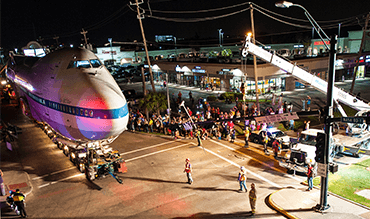 A Word from the Road
Since 1977, NASA's Shuttle Carrier Aircraft have safely ferried all NASA Orbiters, including the first prototype Orbiter, the Enterprise. We were privileged to help safely bring Shuttle Carrier Aircraft, SCA-905, home to Houston.
- Kenny Mungle, Kenco Founder/Owner
Read the blog post for more information on this historic move!
This case study contains proprietary information of Kenco Bucket Trucks. The information contained in this case study may not be used, reproduced or disclosed to any other parties for any purpose without the express written consent of Kenco.