Source: American Cranes & Transport (AC&T) Magazine
The market for pilot car escorts and operators continues to climb upwards as the industry evolves.
Pilot cars are often the unspoken heroes of transports big and small. Key players in many travel plans, operators and their vehicles are responsible for vessels, equipment and a variety of other important cargo arriving safely and adhering to all regulations.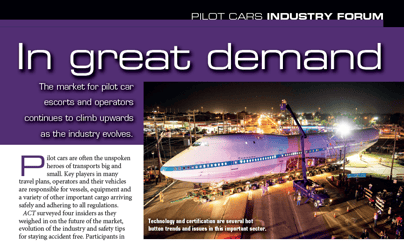 ACT surveyed four insiders as they weighed in on the future of the market, evolution of the industry and safety tips for staying accident free. Participants in our forum include Louis Juneau, president, Nova Permits & Pilot Cars, Randy Starnes, business development manager, Kenco Bucket Trucks, Patricia Auvil, president, Northwest Pilot Car Association and Kaye Greene-Smith, owner, Pilotcarz4U, LLC.
Download the article for great insights or click here to login to read the latest AC&T issue.