Known for our purple bucket trucks, Kenco has provided bucket truck escort services to oversize and overweight loads for over two decades. In our time as experts in the field, the Kenco crew has had many memorable transports for heavy haul carriers in all industries from refining and petrochemical to nuclear and construction; however, one move stands out among the rest.
As featured in the July edition of Texas Monthly, Kenco's bucket truck escort for NASA's shuttle carrier aircraft (SCA) was one for the books. Kenco Bucket Trucks founder Kenny Mungle remembers the 2014 project.
"We were privileged to help safely bring Shuttle Carrier Aircraft, SCA-905, home to Houston," he said. "Since 1977, it safely ferried all NASA Orbiters, including the first prototype Orbiter, the Enterprise."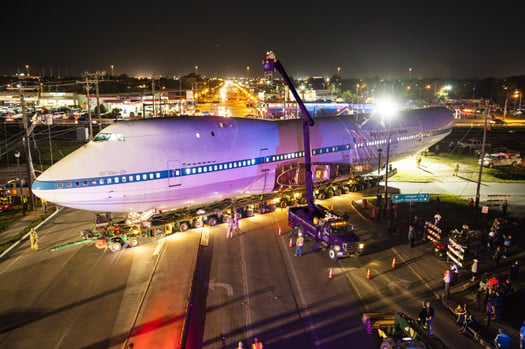 The Texas Monthly article goes on to tell the story of historic move.
Weighing 135,000 pounds and measuring 189 feet long, 29 feet wide and 34 feet high, the Boeing 747 jumbo jetliner that flew NASA's orbiters since 1997 posed unique transportation challenges.

Known as the go-to fleet to clear roadblocks in the lower 48, Kenco Bucket Trucks was called on to remove obstacles in the path of the jumbo jet. From tree branches to utility lines to traffic lights, Kenco cleared the route to safely bring the SCA to Houston.
To add to the magnitude of the project, the move took place overnight. Although this could have posed a challenge to other bucket truck companies, Kenco's fleet successfully cleared aerial and roadside obstacles because of their attentive and experience team.

You can watch the SCA's journey home to Houston here. Be on the lookout for Kenco's purple bucket trucks!
It was a privilege for the Kenco team to be part of this historic move. As exciting as the space race was, this was an exhilarating race against time to bring this NASA icon home. Just think, if we can help NASA's SCA make its way to Houston, what can we do for you? When you have HIGH LOADS think of Kenco for OPEN ROADS.