Kenco Bucket Trucks is known in the industry for being a safe outfit with an excellent safety record. With the entire team focused on safety, this bucket truck escort company saves transports time, reduces costs and ensures the cargo arrives at its destination undamaged because safety incidents hinder overall project success.
Ever wonder why Kenco is considered the safest bucket truck for high loads? Kenco's HR and Safety Manager Cassie Carbajal and Kenco's Founder and President Kenny Mungle explain what makes Kenco your safest choice when you have HIGH LOADS and you need OPEN ROADS.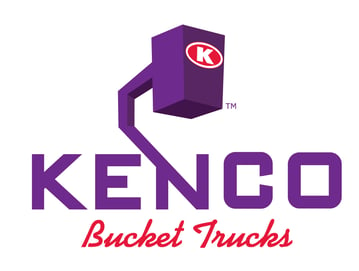 Q. What makes Kenco's safety program better and more effective than the competition?
A. Our safety training never stops. It is ongoing, all day, 24/7. We find that our program is better than other bucket truck companies because it's efficient and offers repeat opportunities for our crew to learn and practice our safety policies both off-site and on-the-job in real life scenarios.
Plus, training doesn't only come from the Safety Department but from everyone around, including Managers, Operations and Field Personnel. It makes me extremely proud when I see someone remind their peer of a safety policy or procedure. It means the message was thoroughly received and understood enough to teach someone else.
Q. How has Kenco's safety culture been cultivated over the years?
A. Our safety culture has been cultivated by constant reminders that our team's safety and wellbeing is the MOST IMPORTANT part of our job. We truly care about everyone on our team and have established good working and individual relationships. We're a team that has fun, but we also have deep conversations too. That helps us set boundaries so that when we need to be serious, everyone understands.

We also consider ourselves to be each other's family away from home, and who doesn't want to protect their family? We believe the only way to protect each
other is to work safely. So, we are all on the same page when it comes to making safety our priority.

Q. How many safety incidences has Kenco had?
A. We tend to care and try much harder than other bucket truck companies, which has helped us have zero safety incidents. Our teams feel like family and when you are working next to someone you care about, you tend to watch each other's back. One of the phrases we use during our safety briefings is, "Always be your brother's keeper", meaning you look out for me and I will in turn look out for you!


Q. What do you credit for having zero incidences?
A. Our training program and Field Operations deserve all the credit. The ongoing training, team mentality and the guys in the field consistently reminding each other reinforces that safety is the most important part of the job!

Q. Why does Kenco's safety culture benefit clients?
A. Because the success of a transport is not about making delivery on time, but more about making delivery safely and on time. It doesn't matter how good of a job you do if there is a safety incident overshadowing it. Many times, our clients are granted projects based on their past safety record. If Kenco isn't up to the same safety standards as our clients, the chances of us getting to participate are very slim.
To learn more about Kenco's safety training and oversize load escort certifications they hold, please click here.