To be deemed a success, transports have to be more than on-time and on budget. They must be completed safely. And to ensure that, it's important to have a bucket truck escort team on the job. In 2019, Kenco has completed over 770 jobs with zero accidents or injuries — can you say that about your current go-to bucket truck company? You can see for yourself how our team handles common obstacles and unique challenges while watching a video of the SC&RA Job of the Year.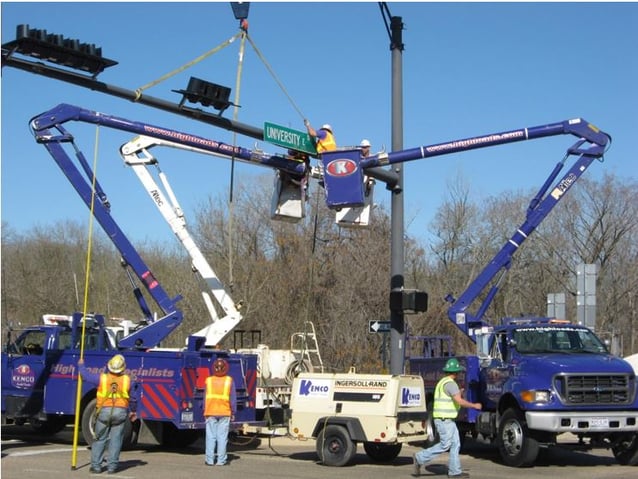 To prepare our team to handle any challenge safely and efficiently, Kenco has developed an in-house training program that exceeds safety requirements of various industry associations and organizations, such as IMSA, TXTA, and the SC&RA. In addition, Kenco's team members complete other training and receives certifications as follows:
An overview of fall protection methods is provided, including the principles of fall protection components and limits of fall arrest systems and OSHA standards and polices. Participants interact with fall protection equipment in this workshop to learn how to inspect and use the equipment properly, in addition to assessing and ensuring full compliance in every situation.
TxDOT TRF450 Certification
This course introduces information about the complete electrical system supplying a roadway illumination project that is installed by a contractor. Participants examine the TxDOT construction standards and the National Electrical Code (NEC) to improve the quality of the installation and/or inspection of the electrical installations that supply roadway illumination.
TxDOT TRF453 Certification
This course examines TxDOT construction project plans, TxDOT's construction standards and specifications, the National Electrical Code (NEC) and approved procedures for traffic signals and electrical installation of those signals. Introducing information about the complete electrical system supplying a traffic controller cabinet and traffic signal poles, the certification develops knowledge of those installing, supervising or inspecting electrical installations.
Basic Mechanical Aptitude Testing
Measuring an individual's ability to understand and apply mechanical concepts, plus basic and advanced problem-solving skills, this aptitude test evaluates skills necessary to complete any given project efficiently and effectively.
Hand-Tool Knowledge Course

This comprehensive course demonstrates the proper use of hand tools, and details specific situations which require the use of each tool. Other information reviewed includes the proper inspection and maintenance of hand tools.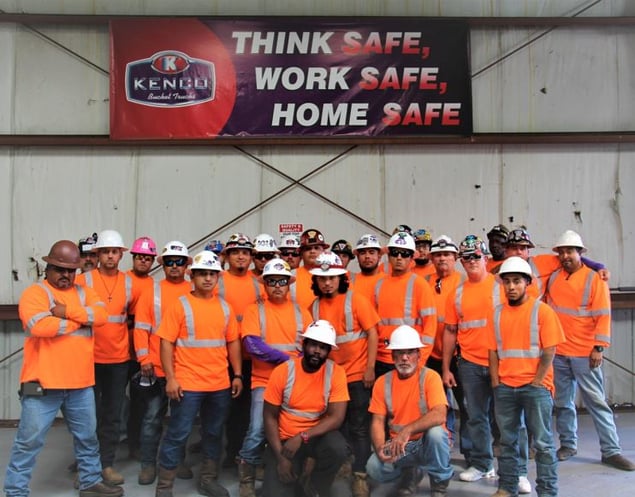 IMSA Work Zone Safety Certification
Approved methods of temporary traffic control in work zones are reviewed, in addition to applicable standards of traffic control in various settings including urban, rural and freeway. Traffic control devices, hand signaling devices, and traffic control terminology are discussed in order to mitigate traffic control problems and achieve a safe work zone.
IMSA Traffic Signal Technician I Certification
Participants will become familiar with concepts and terminology associated with signalized traffic control devices and systems. Principals of operation and the primary electrical details of cabinet wiring and components are introduced, and equipment, methods and materials of signal system construction are discussed. Additionally, the basics of traffic signal design and maintenance are explained.
IMSA Traffic Signal Technician II Certification
After taking this course, IMSA certifies that the holder has thorough background knowledge of traffic signal technology. The certification also denotes that the technician has had additional training on signal control cabinet equipment, including programming, application and maintenance of controllers, conflict monitors, vehicle and pedestrian detection systems, and the communication and power wiring of the cabinet. Circuit operation, fault diagnosis and the use of test equipment for diagnoses is also reviewed.
OSHA 10-Hour Construction Training Course
OSHA requires additional training for on-the-job hazards. Course work includes a variety of modules regarding the identification and prevention of hazards of cranes and rigging, electrical safety, fall protection and ladders.
OSHA 30-Hour Construction Training Course
OSHA's comprehensive safety course is ideal for safety directors, foremen, project managers and field supervisors to establish a strong safety culture on the jobsite. Safety hazards, including personal protective equipment, electrical safety, cranes and rigging, and motor vehicles are identified and explained.
HASC Training
The Houston Area Safety Council (HASC) offers hands-on, instructor-led safety training classes for industrial safety training, general safety, professional development and company- and site-specific orientations.
When you're choosing a bucket truck company, Kenco Bucket Trucks offers a proven safety record unequalled in the industry. Call us at 281.459.3100 to discuss your upcoming oversize project, small or large, and let us show you how we can support your transport needs safely, effectively, on-time and on-budget.