When it comes to oversize and heavy loads, some states legally require bucket truck escort night transport, but other loads can benefit from traveling overnight, too. When planning the coordination of oversized load safety, consider the following situations when deciding whether to opt for a night transport.
When States Require a Night Transport
Each state has different requirements when it comes to oversized loads, and if a load surpasses a certain size, you'll more than likely have to plan your route at night. If a load is at least twenty feet wide, for example, the cargo will require multiple lanes of traffic. States require these loads to travel at night and that be visibly marked with flags, lights and other safety features that alert other nighttime drivers to an oversized load.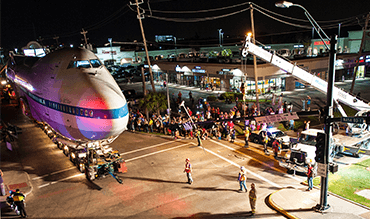 When the Route Has Numerous Overhead Obstructions
A night transport can also be an option if the load is so tall that it cannot easily fit underneath standard traffic lights and power lines. If the bucket truck escort company needs to temporarily relocate overhead obstructions then, a night transport will have the lowest impact on the surrounding area and traffic flow. Utility technicians will have easier access to the lights and lines, with minimal to no disruption of services.

When Safety is a Factor
Sometimes moving a heavy load at night is the safest option. If the transport is oversized or multiple vehicles need to travel together, choosing a route with the least amount of traffic will decrease the risk for traffic accidents. Sometimes that is not possible, though. Transporting at night is often the best way to avoid excessive traffic. Less traffic also means a lower possibility of traffic jams or other disruptions that can extend the time of the transport.

At Kenco, we are a Lower 48 State Authority™ because we understand the requirements to successfully move heavy loads. Our bucket truck escort crews are professionally trained in the safest, most efficient ways to transport OS/OW loads in the dark. To learn more about our night transport options, contact us today!