When evaluating bucket truck escort services, it's important to find a company that prioritizes safety. Heavy load transport routes are full of dangers like high-voltage power lines that can put the bucket truck crew and the cargo in danger. Even bucket truck crews who are trained in removing traffic lights and other arial obstructions will find themselves in trouble around the high-voltage power of utility lines.
Dangers of High-Voltage Lines
Since electricity is unpredictable, high-voltage lines are always a hazard. Even with the proper equipment and training, workers can experience electric shock that can be deadly. Power lines are not insulated, which means electricity can easily travel from them into ladders, vehicles and, of course, people. Electricity can travel through the ground and jump gaps, which puts workers in danger even when they're not standing close to a power line. Working on overhead high-voltage lines often requires the use of ladders or cranes, which create an additional falling hazard for crew members. Workers dealing with high-voltage equipment are at significant risk for strangulation and burns, and they regularly work with materials that create explosion hazards.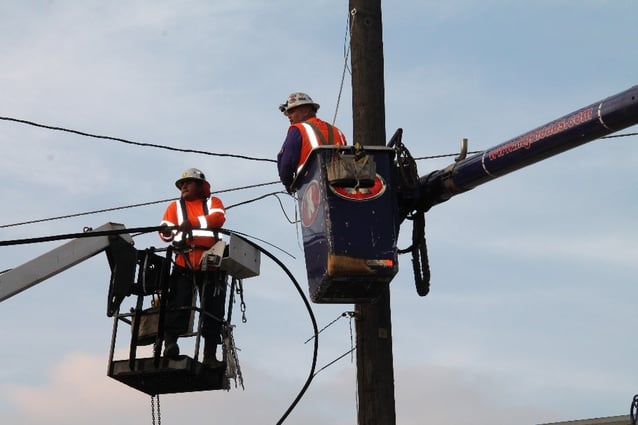 High-Voltage Help
When planning a heavy load transport, plotting out the location of overhead power lines is an important step. Bucket truck escort services should always work with professional utility companies to handle these high-voltage dangers when they can't be avoided. Utility companies not only have the proper training on how to safely work with power lines, but they also have specialized Personal Protective Equipment (PPE) to further minimize their risk.
Trained Bucket Truck Escort Services
It is imperative to choose a bucket truck transport service that takes extra steps to decrease high-voltage dangers even further. At Kenco, we train every crew member on properly avoiding live wires and removing and installing traffic control devices in the safest way possible. Although they receive this training, we also have a strict High Voltage Policy that prohibits any member of our crew from handling high-voltage equipment. We adhere to the strictest safety policies on every job to ensure everyone stays safe and cargo arrives intact.
No matter the size of your heavy transport, or the distance it needs to travel, you can be sure that Kenco purple bucket trucks™ will move it safely and efficiently. Contact us today to learn more or to start planning your next haul.