Bucket truck safety begins and ends with a properly trained crew. Training, experience, and a detailed understanding of what can go wrong on the road are essential for a bucket truck operator to ensure a safe haul. Bucket truck crews need to be ready for anything, and without the proper training, they put themselves, other drivers, and the cargo at a significant risk.
Trained Crews Have Fewer Accidents
Companies that invest time teaching their crews safety protocols are better equipped to avoid accidents than companies that do not. Every element of operating bucket trucks presents potential dangers such as rollover accidents and falls from the bucket truck.

Crews are potentially at risk leading to serious injury or death if they do not follow protocols while operating bucket trucks. This includes, but not limited to, driving, loading/unloading, and working with utility lines.

According to the Occupational Health and Safety Administration (OSHA), about 85% of accidents occur during operation. As many as 30% of these accidents are a result of electrocution.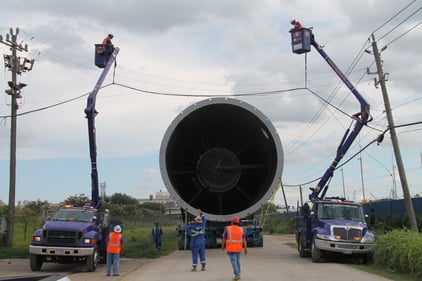 Bucket Truck Safety Around Live Wires
One of the most dangerous aspects for bucket truck operators is electricity. Live wires are unpredictable and treacherous for anyone who has not received detailed training. While our crews are trained and certified in handling traffic control devices and streetlights, OSHA sets the standard that no 3rd party, nor Kenco, are permitted to handle high voltage power lines. Fortunately, Kenco abides by its High Voltage Policy, stating that none of our crew members will de-energize or engage with a power lines. Instead, our crews are trained to coordinate closely with power companies to ensure live wires are safely de-energized during a high-load haul.

Experienced Crews are Safe Crews
At Kenco, bucket truck safety is our top priority, and each operator is trained in the following:
● Handling aerial wires and communication cables
● Removing and reinstalling traffic signals and streetlights
● Removing and reinstalling road signage and bridge signs
● OSHA Fall Protection and other safety certifications

Training is essential to bucket truck safety, and we're committed to providing training and certification that keeps crews and loads safe. If you need help transporting an OS/OW load safely, we're here for you. Contact us today.