A cross-country haul of your oversize load can present a different set of challenges than shorter, local hauls, but bucket truck escort services will help. You'll need to make sure all necessary steps have been taken and precautions have been made if you want your oversize cargo to reach its destination without any snags. Read on for the top reasons you need bucket truck escort services for your next cross-country, high load transport.
Maintain Compliance
A cross-country haul requires compliance with laws across many states. If you are hoping for a smooth transport, it's best to refer to a team of bucket truck experts who have experience complying with laws in various states. Working with local authorities helps to minimize disruption to communities traveled through, allowing for traffic management as well as arranging detour plans if necessary. Kenco has helped guide a super load more than 2,500 miles from Oklahoma to Southern California — it's through jobs like this one that we have gained invaluable knowledge regarding the intricacies of cross-country transport.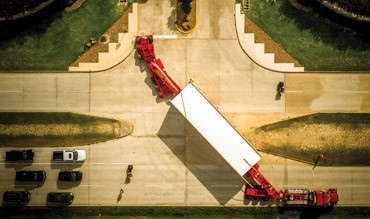 Make the Most of Your Transport Time
It is important to use time wisely when moving your super load across the United States, and this often means using both day and night for transport. Night transport calls for added precaution. Decreased visibility means additional safety measures and procedures must be initiated and logistics must be carefully considered. Kenco will prepare routes before night transports take place by loosening wires, overhangs and lights. Pre-work reduces the risk of safety incidents and in turn increases the efficiency of your super load transport.
Manage Unexpected Obstacles
Don't let unexpected obstacles keep you from reaching your destination safely and on time. Refer to a team of bucket truck experts to help you navigate unplanned bumps in the road. Extreme flood conditions could have derailed a cross country transport, but Kenco's years of on-the-job expertise enabled the super load to continue moving through open roads. Despite setbacks from inclement weather, the load went on to promptly reach its destination without any safety issues.
Ready to let the experts help you with your next cross-country super load? Don't face roadblocks alone. Contact Kenco today.