While bucket truck escort crews always practice bucket truck safety, cold winter weather adds an extra element of caution that cannot be ignored when escorting an oversize load. Some of the added obstacles that come into play during the winter are freezing temperatures, high winds, snow and ice. These conditions pose a threat to human health and safety as well as the integrity of the equipment.
How a Bucket Truck Operator Prepares for Winter Elements
A bucket truck operator prepares for winter elements by dressing for freezing temperatures. Being outside in the cold can cause physical discomfort. Bucket truck operators combat this by wearing at least three layers of loose-fitting clothing, wearing a knit mask to protect their mouth and face, waterproof boots with good treads, gloves and a hat that covers their ears and head. This not only helps protect them from being uncomfortable but keeps them more alert and able to work efficiently and without error. Warm clothing also decreases the health risks posed by being exposed to extreme temperatures.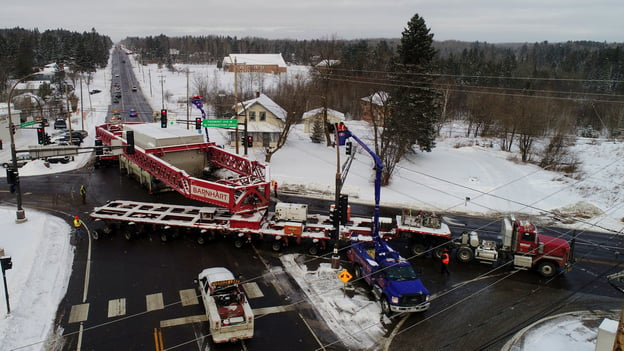 How a Bucket Truck Escort Service Prepares Equipment for Winter Weather
A bucket truck escort service prepares equipment for winter weather by storing the bucket trucks indoors to protect them from the build-up of layers of snow and ice. This saves time because they will not have to clean off the snow or de-ice the truck before transport. It is safer to ensure that the bucket and guard rails are not wet and slippery, keeping them in good condition and helping prevent slip and fall accidents when entering and exiting the truck and/or bucket. To ensure proper function, the truck manufacturer's guidelines are followed regarding proper oil usage based on temperature and recommendations for allowing the hydraulic system to warm up in cold temperatures.
Paying attention to the accumulation of snow and ice — while the bucket truck is in use — is vital to ensure proper functionality of the hydraulics and boom. Securing the truck while parked is also important so it does not slide while the boom is in use. Snow and ice can accumulate on power lines over time, making them hazardous in high winds as they can cause debris to fall from lines and poles. Because of these hazards, bucket truck operators need to be aware of their surroundings and have the ability to identify whether or not the work can continue safely.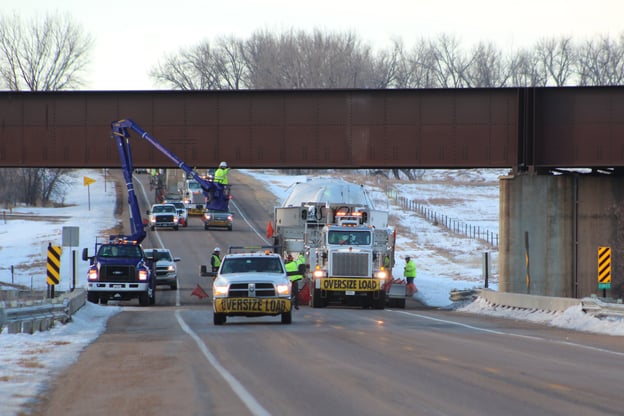 How Prepared Operators and Maintained Equipment Protect High Loads During Winter Travel
Ensuring the crew is trained and dressed for the weather and the equipment is maintained based on the elements being worked in are critical bucket truck safety practices. When you have an oversize load that needs to be hauled, working with a team that is certified in bucket truck safety with the background and experience required to assess and handle extreme weather conditions is essential. If you're looking for an experienced crew that can maintain safety and escort your high load securely in winter weather, contact us to learn more!