When snow and ice hit the roadways, it's time to think about winter road safety and the benefit of a qualified bucket truck escort crew leading the way. Cold weather creates an additional layer of potential danger when transporting oversize loads. Freezing conditions and winter storms can damage equipment, create hazards with other drivers and, of course, there's the chance of being stranded in below-zero conditions during a breakdown.
Oversize Load Equipment Tips for Winter Safety
Experienced drivers and bucket truck escort crews know the importance of regular maintenance and keeping equipment in pristine condition to help prevent breakdowns. Safety is always a priority, and that starts with doing thorough checks on all equipment before setting out on winter roads. It is imperative to make repairs as soon as they're noticed and trust a well-maintained fleet of bucket trucks and highly trained operators to keep things rolling during the winter months.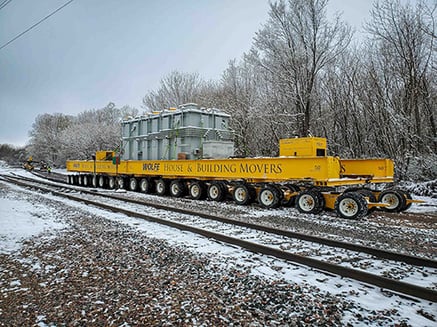 Bucket Truck Escorts Make Winter Roads Safer
A well-trained bucket truck escort crew can continue making safe and efficient work of removing obstacles even in winter weather conditions. Paying attention to snow, sleet and ice can help prevent delays and breakdowns due to mechanical issues.
This includes understanding and implementing best practices for hydraulic systems and oil usage during the winter season. Additionally, for bucket truck crews to establish a safe perimeter around the load to keep other traffic at a safe distance, keeping everyone moving safely toward the destination.
Personal Safety During Winter Transports
Winter weather can be brutal on people as well as equipment. Drivers and crew can be exposed to the elements when navigating obstacles or maneuvering through rough weather conditions, especially if there is storm debris or unexpected blockages along the way. Kenco Bucket Trucks' escort crews are trained and equipped to work safely outdoors in winter. From proper winter layering to boots with thick tread for safety, crews are prepared to keep working even when temperatures drop. A snag-free transport means everyone gets where they need to go, even in the dead of winter.
Winter driving may be more challenging, but it doesn't need to be more dangerous. Kenco Bucket Trucks is available when you need a highly trained crew to help safely deliver your load this winter. From route planning to final delivery, our crews have you covered.